As one of the most experienced and skilled home remodeling professionals in North Carolina, VPC Builders knows how to execute an effective home remodel. There are certain secrets to the craft we use to get the job done — some of which may surprise you.
Believe it or not, there are certain rooms in your home that, despite their differing functions, can benefit highly from the same cosmetic treatments. For example, you may be surprised to learn just how similar an excellent kitchen and bath remodeling might look.
Our Best Kitchen and Bath Remodeling Techniques
We here at VPC Builders have remodeled our share of both kitchens and bathrooms. Here's one of the secrets you learn after doing it long enough: the aesthetic and functional features of kitchens and bathrooms have quite a bit in common. When undertaking a remodeling project for either, the same techniques can be used to make the most of the space.
Here are some of our favorite ways to spruce up your home with kitchen and bath remodeling:
1. Sink and Counter Space
One of the first things a kitchen and a bathroom have in common is that they both need sinks and counters — the bigger, the better! For the two rooms in your home where you'll wash your hands the most, a large sink that ties cohesively with the rest of the room's visuals can make a big difference in your remodel.
For kitchens with lots of dishes and bathrooms with lots of traffic, expanding your space with a double sink can be a functional and elegant solution.
In the same way, any large sink, whether in the bathroom or the kitchen, deserves a sizable amount of counter space. We've all seen a bathroom sink crowded with soaps, lotions, and hairbrushes, or a kitchen counter piled with appliances and dishes. Expanding your counter space can clean up both the atmosphere and functionality of the room and its utilities, whether it be a kitchen or a bathroom.
2. Tiles, Tiles, Tiles!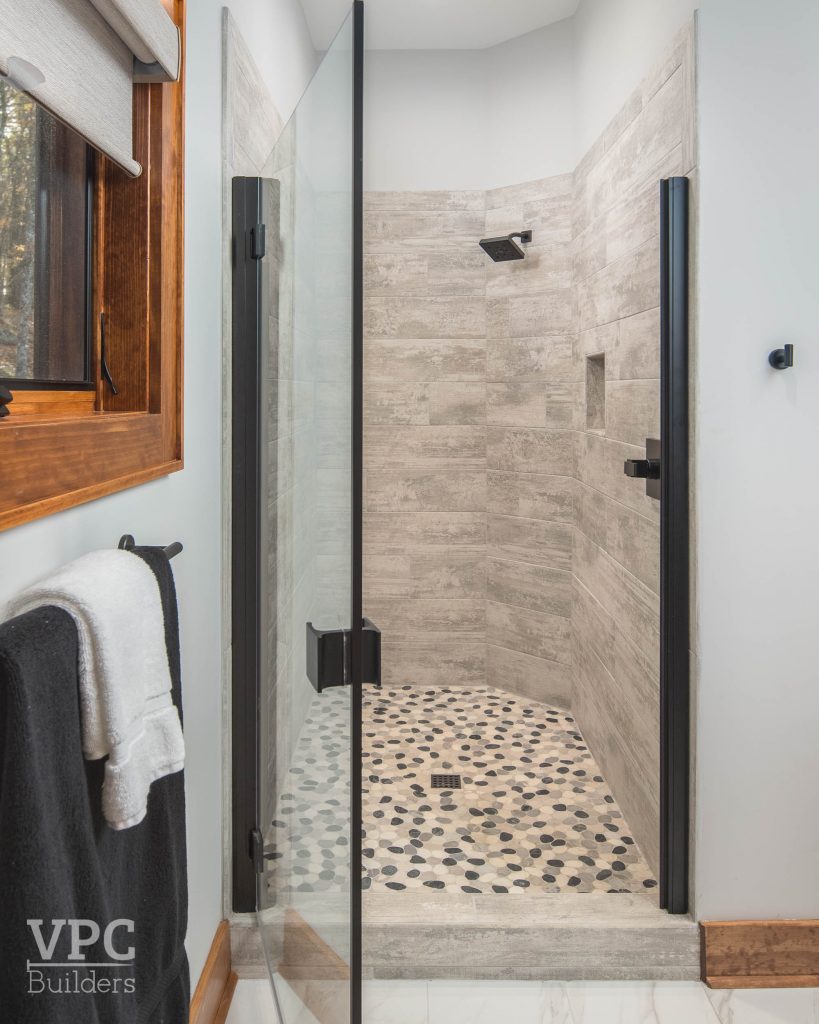 Because form tends to follow function, there are plenty more similarities one should expect between a kitchen and a bathroom. As the two rooms in which you'll likely use running water, tiles can be a great addition for both visual appeal and practical use.
Tiles, which take no damage from spilled water, can provide a safe and cost-effective option for flooring in kitchen and bath remodeling projects. Not only are they functional, but they also provide a perfect opportunity for cohesive decoration across the room.
Tile patterns on the floor can be repeated across walls. In the bathroom, you may see the same kind of tiles along the walls of a shower stall or bathtub. In the kitchen, tiles can make an excellent backsplash for a stove or cabinet wall, tying the whole room together visually.
3. Ample Lighting
As is the case with any custom building project, adequate lighting makes a critical difference in kitchen and bath remodeling. Unique light fixtures can provide a thematic atmosphere to your room — bring fluorescent tubes for a futuristic look in your bathroom, tungsten overheads for a cozy cooking space in the kitchen, or perhaps a beautiful chandelier for an elegant atmosphere in either.
Apart from your artificial lighting installations, there are plenty of options to consider in terms of natural light, as well. For bathrooms, frosted windows can allow bright sunlight to illuminate the space while still preserving privacy. For a kitchen, wide windows can provide exactly the kind of light you need to make your baking measurements easy and precise.
4. A New Paint Job
There are few ways to revamp the atmosphere of a room as effectively as a fresh coat of paint. As functional rooms in the home, both kitchens and bathrooms provide a rare opportunity for thematic expression in terms of color and style. By selecting a specific color scheme, you can invoke different atmospheres and imagery to elevate the visual experience of a room.
Many bathrooms benefit from deep blues and greens, coordinating with interior design elements to invoke an aquatic, undersea feel. Likewise, many kitchens utilize woodsy, warm tones to cultivate a rustic, cabin-like feel for the cooking space. By comparing and combining different color paints, expert designers like those on our team at VPC Builders can create all kinds of beautiful effects for your kitchen and bath remodeling projects.
5. Extra Cabinets
As we've established already, both the kitchen and the bathroom are function-first rooms. But for rooms as crowded with supplies as these, what could be more functional than bountiful storage space?
Many homeowners eventually find that the storage space available in their bathrooms and kitchens doesn't go quite as far as they would like. Rather than having to throw out handfuls of their preferred supplies, whether it be spices for cooking or shampoos for moisturizing, why not undertake a remodeling project with the professionals?
VPC Builders can construct additional cabinets, designed to make the most of whatever space is available in your kitchen or bathroom. Not only do extra cabinets provide extra storage space, but they also make an excellent opportunity for decoration.
Colorful cabinets which mirror each other along the floor and ceiling can create a sense of balance in a kitchen or bathroom. Just think of how they'll look with a lovely tile backsplash across the middle!
An Expert Approach to Your Kitchen and Bath Remodeling
Spend long enough on any craft, and you'll become an expert at it. That's our story at VPC Builders. We've been creating custom homes and executing beautiful remodels for so long, we just can't help but share our knowledge.
If you're considering a project like a kitchen and bath remodeling in the near future, we'd love to offer our experience, equipment, and expertise. Whether it's going to be your kitchen, your bathroom, or both, we're confident we can help you cultivate a beautiful new space for you and your family to enjoy.
Want to know more secrets about kitchen and bath remodeling? Contact VPC Builders today.